You'll find Maggie and Laura's homey abode in Katherine, a Top End town about 3.5 hours south of Darwin. Their home is charming, arty and funky kind of place that would suit families with kids of all ages and stages. Whether you are passing through, or in need of a weekend away from Darwin, it's the perfect base to explore the many wonders that Katherine and surrounds has to offer families!
Katy Moir, a local Territorian stayed here recently with friends, and kindly agreed to give us the lowdown and write this fabulous review!
Photo credits: Katy Moir (left), Maggie & Laura (right)
What makes it really special & unique?
Maggie and Laura's house certainly feels like home! Or the home I wish I had! The eclectic style and various spaces they have created means there is a spot for everyone. The backyard is incredibly spacious with a nice little pool to cool you off during the day. It is close to Katherine town, the hot springs and only a short drive to the gorge + many other sites around Katherine!
Maggie and Laura know Katherine well and I'm sure would be happy to give you as many wonderful tips about the place as they did me. But honestly, it's so lovely just sitting in their art decorated breezeway and having a cup of tea.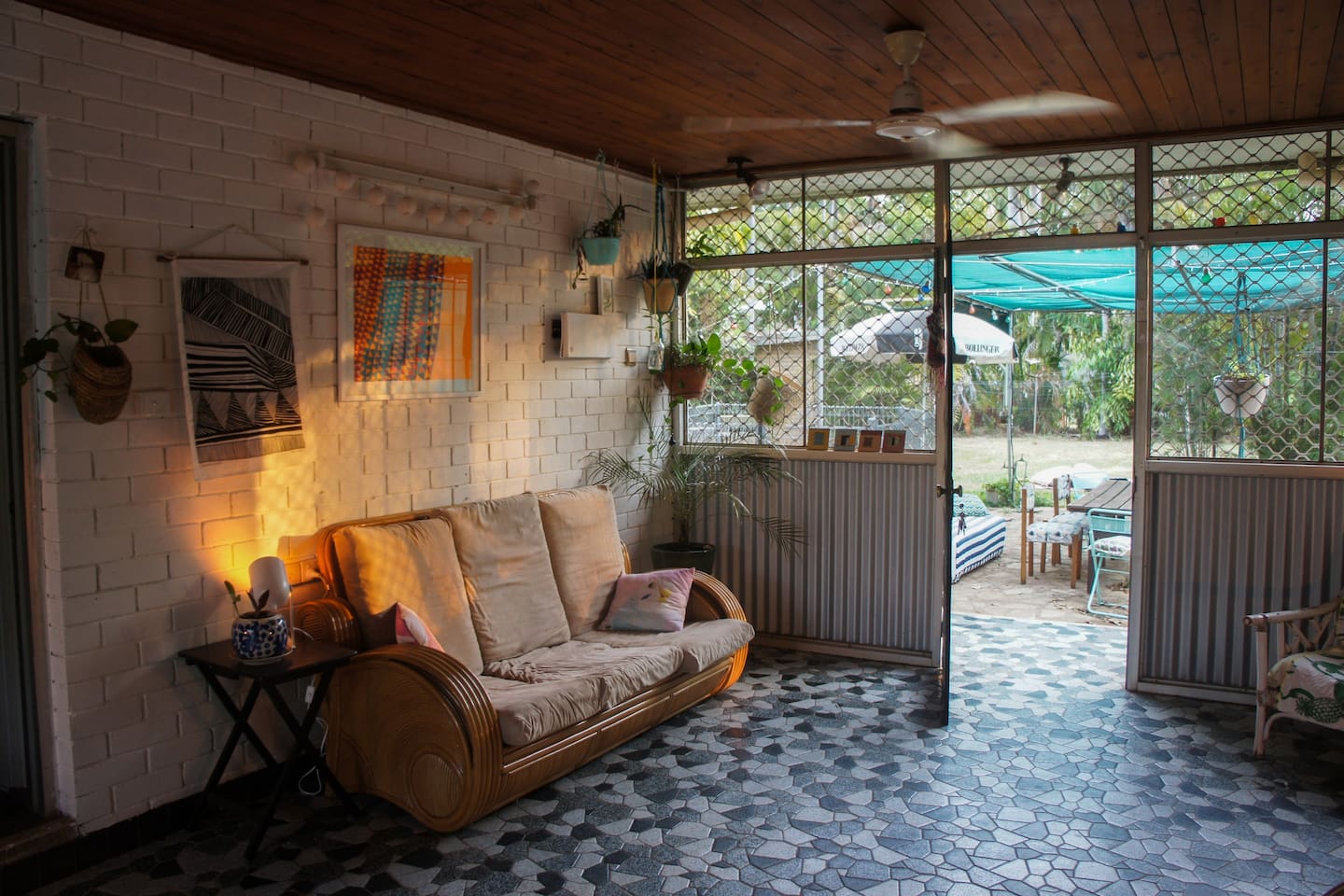 Photo credit: Maggie & Laura
Why you think it rocks for families!
Definitely! There is so much room for them to play inside and out. The pool is maybe a little undersized for larger kids/families but great for the little ones.
Can you tell us the basics.
There is more than enough space for four people (or a family) with two bedrooms, two toilets, one bathroom and plenty of living space. The kitchen, living, laundry and second toilet are separated from the two bedrooms, bathroom and first toilet by a beautiful breezeway.
Although I didn't use it the bedrooms do have air con but the fans and design of the house means it stays very cool all day.
Photo credit: Maggie & Laura
Style notes…what did you LOVE about the design, decor and vibe?
Maggie and Laura have done an amazing job decorating this place. Their wide and wonderful collection of art is on display throughout the house – you could probably spend a whole day looking at this alone.
The house they had to work with was already a gem though! Designed by the Architect who was brought to Katherine to design one of the churches, he managed to create a simple yet elegant climatically appropriate house with every tile you can imagine! This place was a never ending exploration for me.
Photo credits: Katy Moir (left), Maggie & Laura (right)
Who would it suit?
To be honest, I don't see why it couldn't suit everyone. I don't think they have specific equipment for very small children, but I know they would be willing to help out as much as they can to make anyone's stay as comfortable as possible.
What do we need to know?
Nothing out of the ordinary that would be of concern I think.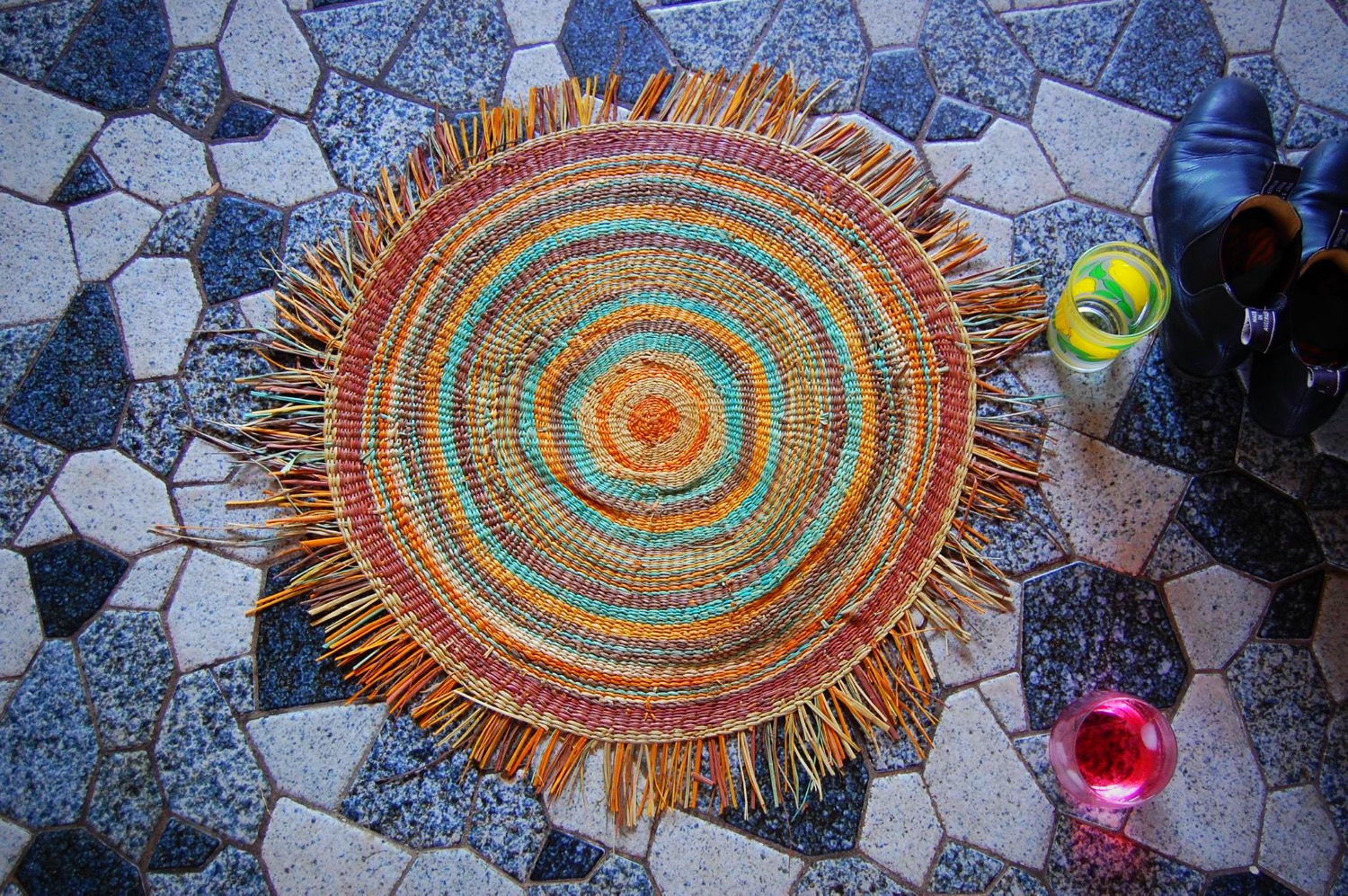 Photo credits: Maggie & Laura (left), Katy Moir (right)
Any tips on where to grab a bite to eat or a good coffee with kids?
The Finch Cafe
has fantastic coffee and cake, and they do an awesome brekky and lunch. If you visit in the Dry Season, head to the
Black Russian Caravan Bar 
near the visitors centre. They do a great pulled lamb toastie, colourful baby chinos and delicious coffee!
Colourful baby chinos (left), Kids & dogs welcome at the Black Russian Caravan
Photo credit: Facebook Page
We'd love to hear a little bit about you.
I am a Graduate of Architecture from Darwin who loves exploring homes of the territory. I don't have any kids and haven't travelled with any, but as I said, I know Maggie and Laura would happily answer any questions one might have and do what they could to make the stay more comfortable.
Thanksheaps Katy for sharing your insights!
Get to know Maggie and Laura!
Maggie is the brains behind the fabulous new ethical clothing line
Magpie Goose
– simple, statement clothing which features textiles from remote Aboriginal communities. Laura is the founder/CEO of Enterprise Learning Projects – a not-for-profit organisation that supports grassroots enterprise in remote Aboriginal communities. So you can try delicious Gulbarn tea from Minyerri community, and Ngaringman bush soap from Yarralin when you stay!
Here's a little word from Maggie about the house.
As we're both travelling and out bush a bit for our work, we Airbnb our house out while we're away! We both have quite flexible work schedules, so if you're wanting to stay just shoot us a message and we can arrange to be out ofthe house! We always rent out the wholehouse – so you have your run of the two bedrooms, 2 toilets, bathroom, two living spaces, outside area/pool, kitchen – the lot!
Photo credits: Maggie & Laura
The house is totally kid friendly – the pool is fenced etc. Toddlers might want to open all the cupboards and put their little fingers through the fly wire screen, but apart from that I can't foresee any issues with kids! (we don't have cots or highchairs though – so maybe bring if you need those).
We provide a little booklet of great activities to do around Katherine, Kakadu, Litchfield, Mataranka areas to air bnb guests. We have a little spa pool which is great to cool off in after a long day exploring; and the breezeway is always fabulous to relax and enjoy a beer in! We have three yoga mats that people can use, and four bikes that you can borrow to pedal aroundKatherine! We're always able to provide extra tips and suggestions to make your stay in Katherine region truly fabulous.
Photo credits: Maggie and Laura (left), Katy Moir (right)
We'd love to welcome everyone to our home. As it is our place, it's filled with all our favourite art and plants and carved birds and furniture and everything that we've collected all around the place. We would expect guests to respect our house and love it like we do! We have not had any issues with any guests to date; we find that people are lovely and respectful!
You might also be interested in:
Growing up Troppo is about people sharing their little gems, their favourite places to stay, play and eat with kids (that parents love too).
Libby Larsen – Growing up Troppo
Honest travel advice & inspiration for parents
I live in Darwin in the Top End of Australia with my lovely partner and two little boys. I'm not sure about you but when I'm heading somewhere a good friend has been to, I always ask, "Where did you stay? What are the best places to eat with kids? What are your tips? Growing up Troppo is about parents sharing their "little gems" with other parents.