Welcome to our Egypt Travel Blog page. It's hard to find up to date information or travel guides for Egypt in 2017 because the travellers and holiday makers all but stopped coming quite a few years ago. I haven't been able to find any other travel blogs that cover Egypt in any depth, so I decided to make ours as comprehensive and information packed as possible. There aren't many tourists visiting Egypt, fewer still backpacking, but those that do need good information and I know we've found that hard to find. We're in Egypt right now, today, so this is just the beginning of our Egypt travel content, I'll be adding a lot more over coming weeks as we finish exploring the Nile and move across to the Red Sea and Alexandria. We're covering as much of Egypt as we can ( with kids) in just under a month, with a particular focus on historic sites, learning, culture, history, and food. The most important part of travel in Egypt is how to get around, it's the hardest part and we've found little accurate information on trains, buses and planes online, so we'll tell you everything we know here and in linked posts.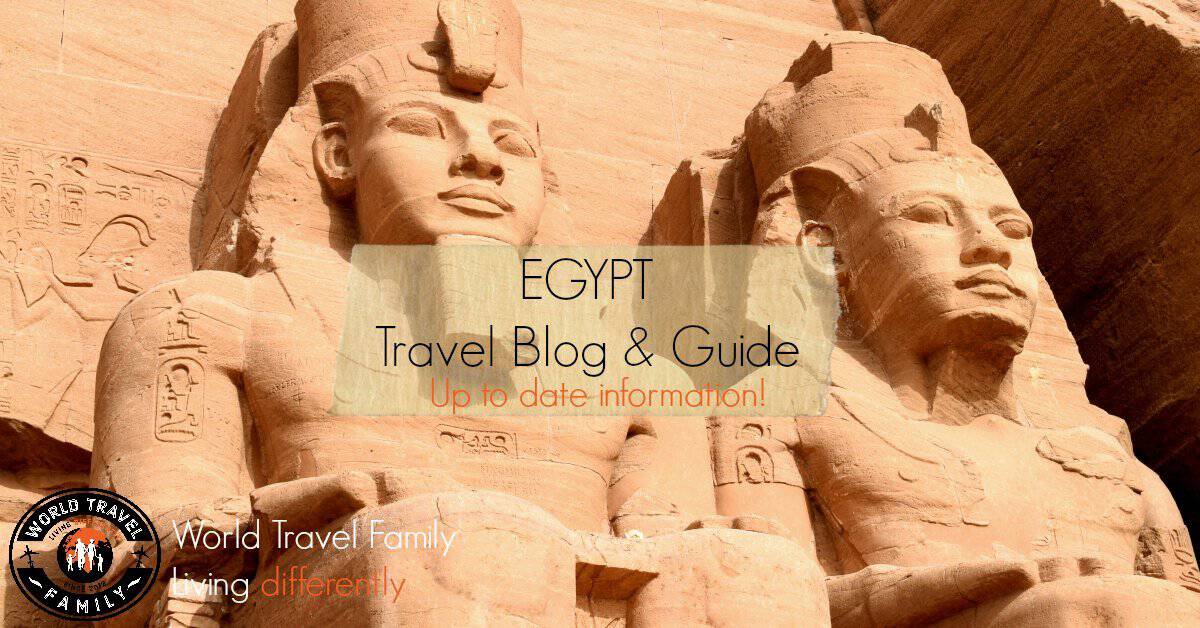 Click on our links below to read more,this website uses affiliate links for various companies, they cost you nothing, they don't mean that we direct you to particular hotels, that's not how it works.
Egypt Travel Blog 2017 Itinerary
During this trip we spent almost a month in Egypt visiting Cairo, Luxor, Aswan, Abu Simbel, the Red Sea and Alexandria. We did not take a Nile cruise of any sort however the boats are running. This is independent travel, arranging transport and accommodation as we go. You could of course book a lot of this in advance, we prefer to stay flexible and it's worked in our favour when we've needed to take a break. Egypt is hard work, it's no vacation, but it's absolutely fantastic. So far it's been one of our best trips yet but we have most certainly had our share of problems and disasters.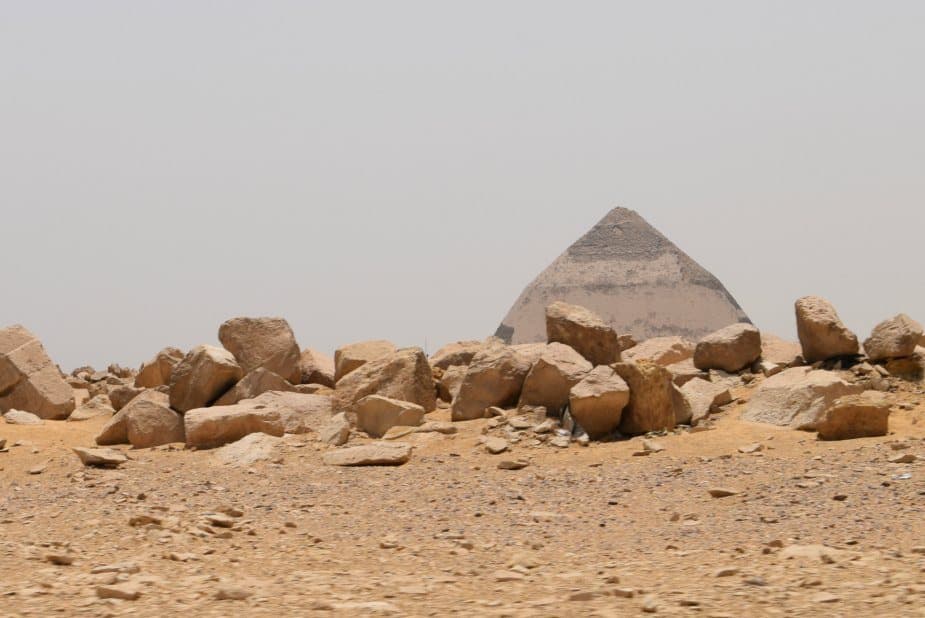 WE ARE STILL IN EGYPT, THERE IS MUCH MORE TO COME, SIGN UP BELOW
See our posts on these destinations below:
Costs of Travelling in Egypt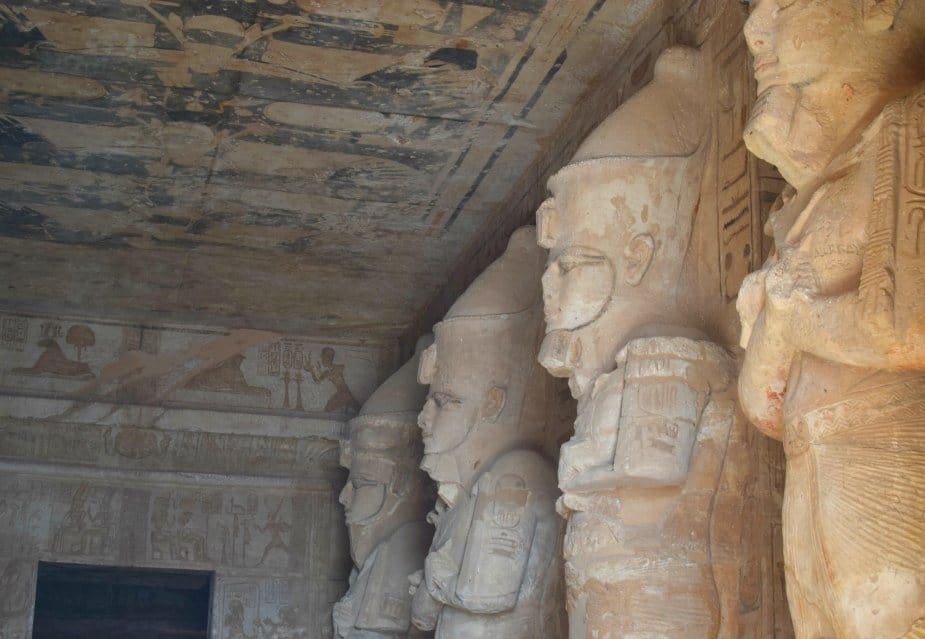 Egypt is currently incredibly cheap, we feel it's working out cheaper than most of Asia. Trains, buses, taxis, hotels, admissions to top attractions, everything is extremely affordable in comparison to the other 50+ countries we've visited. I'll give admission prices, train costs, hotel prices etc. in the relevant sections or blog posts below. That affordability is right across the board, from budget to luxury. A luxury resort hotel on the Red Sea cost us under $40/ night for 4 people.
Food in Egypt (with kids too)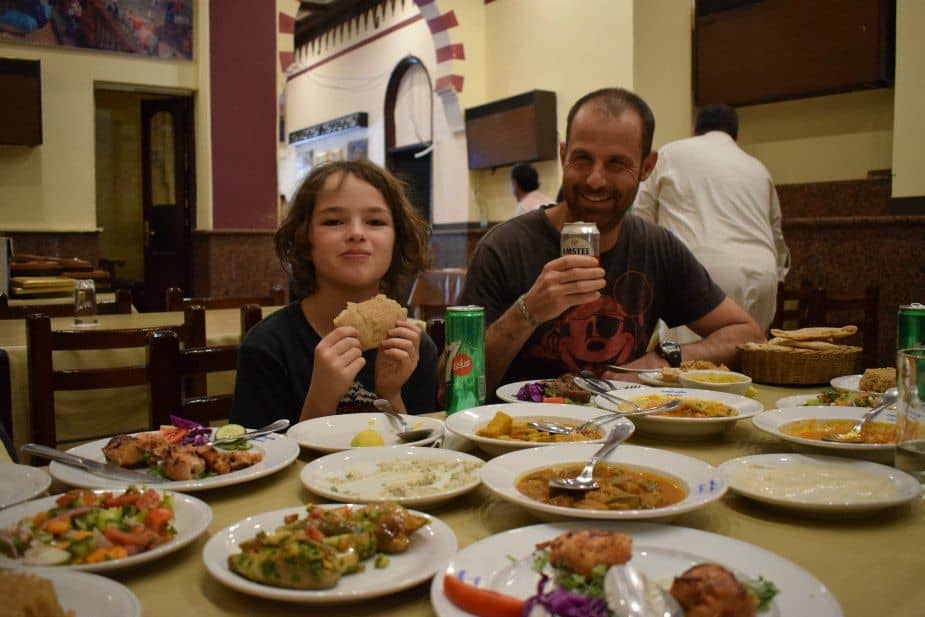 We like Egyptian food a lot but it's not always easy to find. Your best bet is usually to ask your driver or hotel owner where the best Egyptian food is to be found. If the locals eat there, you can bet it's good. If you look at sites like Trip Advisor you'll often see big hotels coming up as the best dining options, sure they'll be nice, but try the local food too.
Egyptian food isn't very spicy, its typical Mediterranean/ Middle Eastern food. There are abundant vegetarian options and prices are low. We'll be publishing a full post on Egyptian food soon.
If you get stuck, all of he usual fast food restaurants are represented and can be a good choice for a quick air con, wi-fi and coffee fix. We've also sampled hotel buffet breakfasts in Egypt, expect all of your usual favourites plus lots of sweet things, falafels, brown beans, tahini and olives.
Negatives, Cruelty, Dirt, Filth, Dust and Litter
We're in agreement that we've never been to a place with more litter. You'll find trash everywhere and sadly it's mostly plastics. There's dust too, but there's not much to be done about that, you're sandwiched between deserts. Some of the trains, even in 1st class, are so filthy you feel dirty just looking at them, others are immaculate. We'll help you figure that out. Some hotels are filthy too. The roads and the driving are hair raising, the exhaust fumes thick. While we're talking negatives I'll mention that the ubiquitous donkeys and horses are often terribly treated, the camels fare little better. None of us had any food related sickness in Egypt, but we did have respiratory viruses, probably picked up on the plane. Egypt is, we think, the hardest country we've ever been to in terms of organising transportation.
The Hassle Factor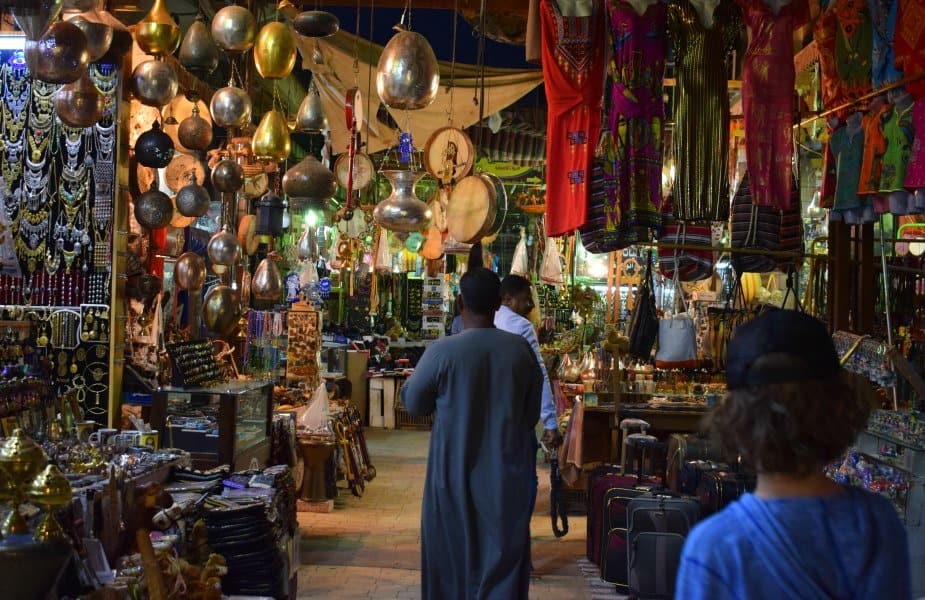 I've seen so many people, regular holiday makers, long-term travellers and travel bloggers, complain about being harassed in Egypt. We've been fine, but I think I need to qualify that. Luxor is billed as " Hassle Capitol of the World" and that's pretty fair. Everyone wants you to take their felucca, hire their horse and cart, buy their scarf or figure of Ramesses. It's interminable and some will find it deeply irritating. We have a saying in our family, stolen from a well known kids' movie,  smile and wave boys, just smile and wave. Keep your sense of humour, chat, laugh, interact, and it will be fine.  If you've never travelled in Asia this level of touting will be a shock but it's no worse than India. We were here almost 20 years ago, some say the hassle has got worse, we think it's about the same, but of course there are far fewer tourists to go round now and everyone needs to make a buck. Treat them kindly.
I lost it with one guy, he kept following us, kept asking us to take his horse and cart over two days of our Luxor stay. I gave him a mouthful and he slunk off. I felt bad, he caught me at the wrong time, hungry, tired, hot and humourless. At the Saqquara pyramid of Djoser a young vendor followed me, trying to sell me a souvenir that I didn't want. I'd lost Chef and Boo, D and I were wandering around looking for them. This young man was so helpful,he took us to high points to search so I bought his hieroglyph ruler for a whole $1.Thank you Abdulla. At the historic sites men will try to be your guide. Sometimes it's worth giving them 20LE, they can show you really interesting things that you'd otherwise miss. Sometimes it's best to ignore them, smile and keep walking, it's up to you.
Tipping is another irritation.  Almost everyone will try their luck and ask for a tip, even after you've paid them the agreed price. We don't tip unless we want to. Certainly not if we've agreed a good price in advance or paid up-front for a day's service. It's not a problem, nobody will get angry or try to beat you up. They're just trying to see how gullible you are. Some tourists are extremely lacking in savvy, we met a guy who paid $100 for a few photos on a camel. That was entirely his own fault ( he was a lovely guy, but didn't have the right tools for Egyptian travel), don't get on a camel without agreeing a price first. If you read our post about feluccas you'll see more of what I mean about not getting ripped off.
Getting Around Egypt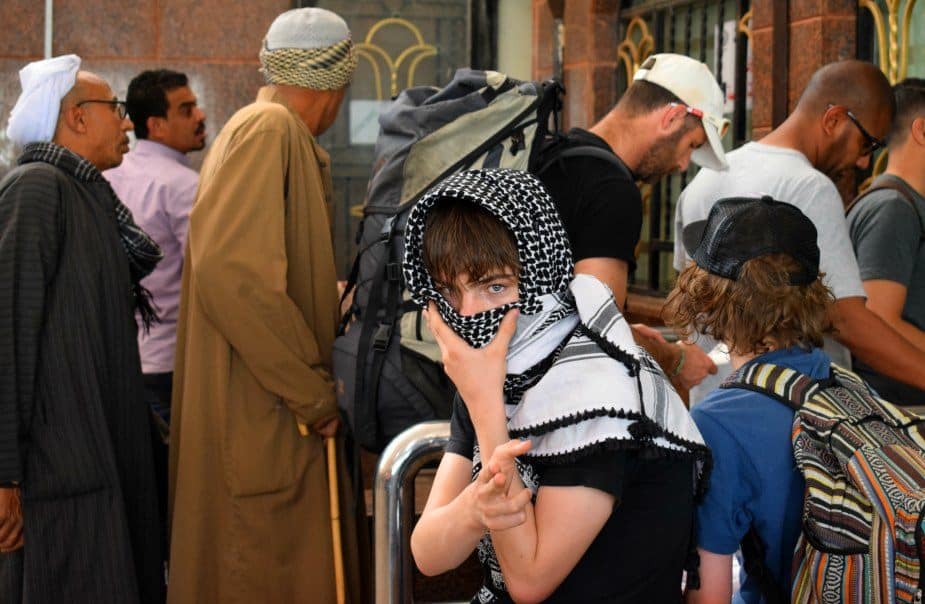 We did the following.
Taxi pick up from the airport in Cairo to our Luxor hotel by people carrier ( much less hair raising than taxis)
Day trips in and around Cairo by taxi. ( easy but the traffic and fumes are bad)
1st class VIP train to Luxor. ( excellent)
1st class non VIP train to Aswan. (terrible)
Mini bus to Abu Simbel ( OK)
1st class VIP train back to Luxor. ( excellent)
Bus/ coach to Hurghada ( good)
Bus/ coach to Cairo.(excellent)
Train to Alexandria ( terrible)
Bus to Cairo. ( excellent)
Getting around Egypt has been incredibly cheap and mostly a good experience. The 1st class VIP trains are fantastic, the non VIP train was gross. The coaches and minibuses were of a good standard. Traffic congestion in Cairo is horrendous and driving can be crazy, we were lucky to find an older, steady driver and stuck with him. On the long, straight desert roads buses zip along at break neck speed. It can be hair raising.
Heat, Dust, Sand and Weather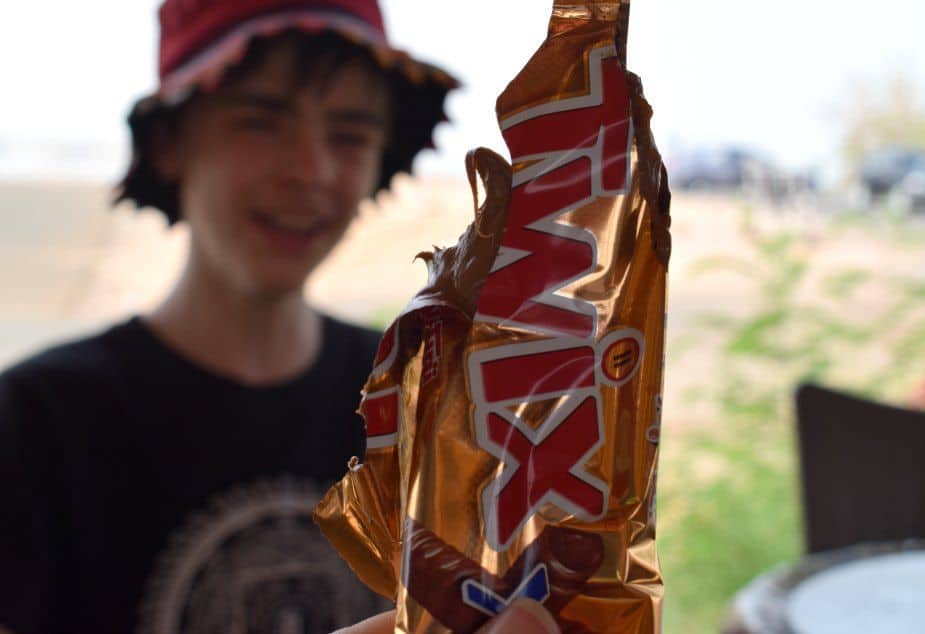 We were in Egypt at the start of summer, April into May. Cairo and the Red Sea Coast were bearable, Luxor, Aswan and Abu Simbel were inferno hot, some days reaching 42ºC, that's ºF.
It's best to get to the big attractions early and enjoy them in the cool of the morning. We weren't hot at all at the Valley of the Kings or Karnak Temple and the 6am starts meant we had them to ourselves. Arrange a taxi pick up the night before. In the desert the temperatures dip pleasantly at night, but on a previous visit in February I remember being really cold from around sunset.
What to Wear
Stay covered, to show respect and to keep the sun off your skin. You'll need a hat or large scarf to protect your head, maybe face, from sun, dust and sometimes flies. On the Red Sea in big hotels, normal holiday wear is fine.
Alcohol, Wine & Beer for Travellers Who  Like a Drink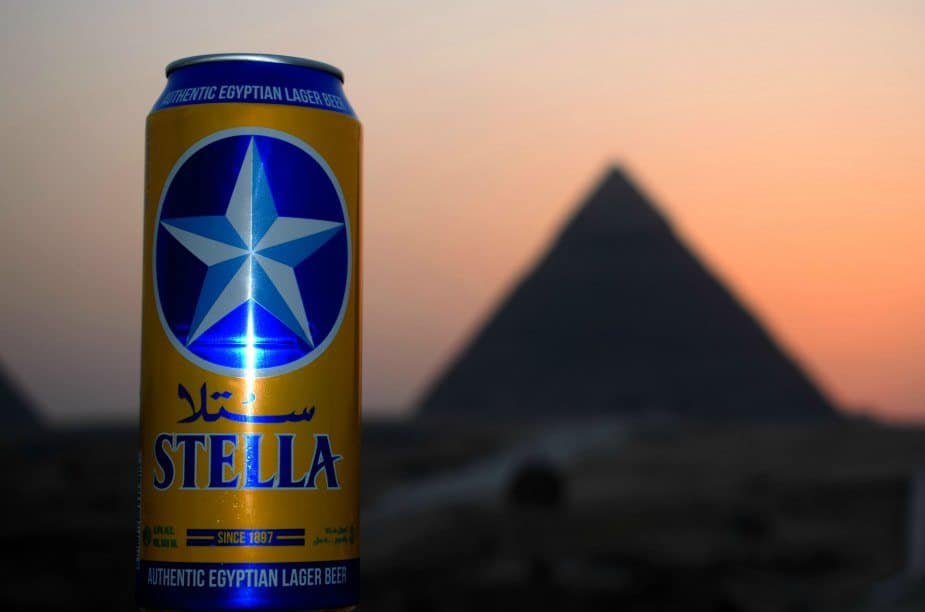 Egypt produces it's own beers and wines and is by no means dry. Restaurants that will give you a beer or glass of wine with dinner are hard to find but do exist, they are normally Christian run. The higher the ratio of Christians: Muslims in an area, the better your chances. There are off licenses to buy your own. Look for the Drinkies chain of bottle shops. Big hotels serve alcohol.
Finding Hotels, Hostels, Apartments or Guest Houses in Egypt
All the usual methods of finding accommodation work in Egypt. We'd particularly recommend AirBnb, we rarely use them, but for Egypt, it works. We rented a spacious, cool, well equipped apartment in Luxor to take a break, relax and catch up with laundry and work. You can join AirBnb via our link HERE ( which is free)
All of the sual booking engines, Booking.com, Hotels Combined, Agoda etc. work well for Egypt. We had great deals with Marriott, you can get 30% off Red Sea and Egypt hotels with Marriott rewards currently. We used Marriott Hurghada ( click through to see more) and can give it a big thumbs up.
The Red Sea, a True Holiday in Egypt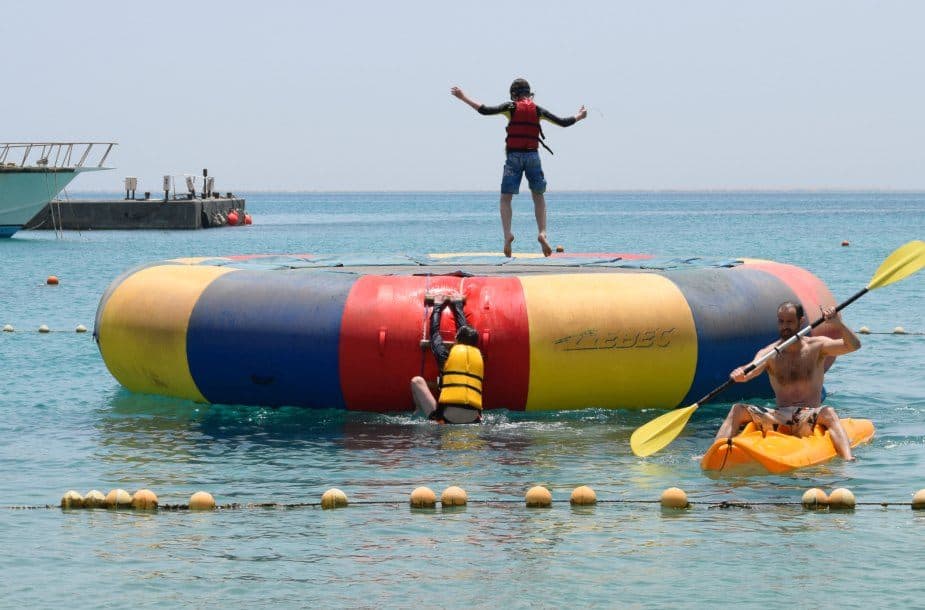 The Red Sea is a paradise for divers and snorkellers. This is our first time on Egypt's coast and we're impressed by the cool clear waters, marine life and excellent hotels. We're delighted by the low prices ( see above 30% off deal). More on holidaying in Egypt coming soon.
We have absolutely loved our time in Egypt give or take a few difficult days. Chef and I visited many years ago on a small group adventure tour and that was a great experience too, but this time, as independent travellers, backpacking, if you prefer, it's been better. We've seen more, we've been able to adjust our trip to suit us and our needs and we've got in touch with the real Egypt instead of just seeing the tourist sites. We've felt safe ( other than the time we were almost hit by a run-away tanker…long story) and it's been an incredible educational opportunity for the kids. We hope you can encourage you to visit Egypt, these guys are great and they need their western tourists back.

Learn About Egypt Before You Travel
We highly recommend the Lonely Planet guide books for learning about the history and culture of a country before you leave home. You can use it to figure out where in Egypt you want to go and learn the basics of the language, a few pleases and thank yous are always welcome. It's also a good idea to learn numbers 1-10 in Arabic, we've found this very useful.
To bookmark to Pinterest, don't forget more content about Egypt will be published this week.